Donald Trump: Idiot of the day!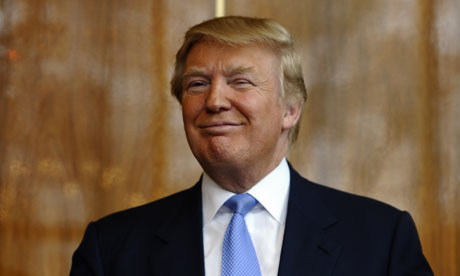 Donald Trump "
vlogs
" about how racist Jon Stewart is: WTF?
Maybe I'm also racist since I don't see any racism in Stewart's skewering of Herman Cain's emerging charges of sexual harassment and general ineptitude. Trump doesn't bother to provide evidence of racism, he just rants that Stewart (a past harsh critic of Trump) has hurt the African-American community and deserves to be pulled from the air.  Read more…
I look forward to Stewart's reaction on this evening's Daily Show. —drego 
(source: The Week)
October 21: Third time's the charm for The Rapture?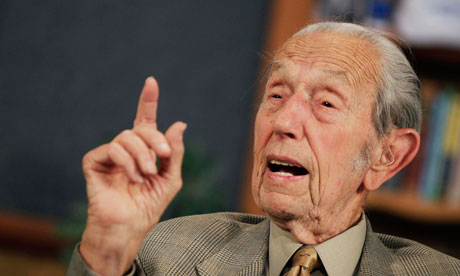 Last evening's minor earthquakes in the San Francisco bay area may have had Oakland radio preacher Harold Camping crapping in his pants with glee, but once again his prophecy of The Rapture coming today, October 21, fell short. No believers levitating to heaven, no fire, no brimstone. Camping's failed prophecies of the end of the world: first in 1994, then last May 21, and now October 21. Three strikes and you're out. Now please STFU!  —drego
(source: The Guardian)
Seattle Pastor Mark Driscoll: Idiot of the day!
Says Driscoll: masturbating in front of a mirror makes you gay
"First, masturbation can be a form of homosexuality because it is a sexual act that does not involve a woman. If a man were to masturbate while engaged in other forms of sexual intimacy with his wife then he would not be doing so in a homosexual way. However, any man who does so without his wife in the room is bordering on homosexual activity, particularly if he's watching himself in a mirror and being turned on by his own male body."

—Pastor Mark Driscoll of Seattle's Mars Hill Church, from Porn-Again Christian: A Frank Discussion on Pornography & Masturbation for God's Men
Start the countdown: how long until Driscoll is revealed as a closeted gay? —drego
(source: Dangerous Minds)
Pat Robertson: Idiot of the day!
Robertson: earthquake signals the Second Coming
Robertson felt vindicated Thursday by the news that authorities had discovered cracks at the top of the Washington Monument.
"It seems to me the Washington Monument is a symbol of America's power. It has been the symbol of our great nation. We look at the symbol and we say 'this is one nation under God.' Now there's a crack in it … Is that a sign from the Lord? … You judge. It seems to me symbolic," Robertson said.
I, for one, am anxious to hear what God tells this numbnuts is the reason He is about to slam the east coast with a hurricane.  —drego
Michele Bachmann: Idiot of the day!
"
Obama Told Me The Affordable Care Act Eliminates Medicare
"
BACHMANN: "A couple of months ago I was in the White House with President Obama. We asked him three times, 'what's your plan to make Medicare solvent.' He mumbled around and didn't give answer…he said, 'Obamacare.' And so what senior citizens don't realize is that President Obama's plan for Medicare is they will all go into Obamacare. There won't be a Medicare going forward under President Obama."  Read more…
Somebody's pants are on fire!  STFU!  
(source: ThinkProgress)
Glenn Beck: Idiot of the day!
"There was a shooting at a political camp, which sounds a little like, you know, the Hitler youth. I mean, who does a camp for kids that's all about politics? Disturbing."
Oh Glenn! You're so cute, blaming the victims. What's so terrible about a bunch of dead Nazi kids? Please, STFU!
(via BuzzFeed)
Rush Limbaugh: Idiot of the day!
Limbaugh calls heat index a liberal government conspiracy
(source: Think Progress, via Current)
Pat Robertson: Idiot of the day!
"God will destroy America because of gay marriage
"
Pat: go sit in the corner with Harold Camping and STFU!  New York: Congratulations!
(source: YouTube, via FreakOutNation)