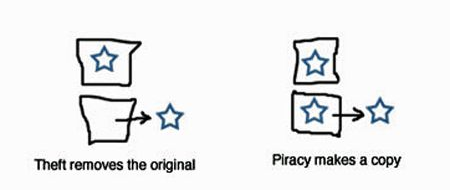 "When talking about piracy the entertainment industry and politicians often use the term "theft." This is a huge problem according to the Swedish sociologist of law Stefan Larsson. In his thesis 'Metaphors and Norms – Understanding Copyright Law in a Digital Society,' he explains that these metaphors are in part keeping the wide gap between people's norms and the law intact."  Read more…
"Waldorf schools ban computers to help kids learn through creative, tactile tasks. Funny enough, many Silicon Valley bigwigs are on board."  Read more…
(source: The Week)
"In the future, we'll all be slaves to rectangles. No, really. Well, at least that's the prognosis, albeit sanitized, Microsoft has slickly pieced together in its Productivity Future Vision concept video. It's a mostly seamless world where all of our interactions are made to be mobile, virtual, efficient and white-washed, but it actually just reads as too darn fussy and overcomplicated. …"
(source: Official Microsoft Blog, via Engadget)
"The important question isn't whether such "stealing" occurred, it's whether we want to live in a world where it's illegal. Do you want to live in a world where only Apple is allowed to make phones with pinch-to-zoom capability (and dozens of other features) until 2027? I sure don't."  Read more…
(source: Forbes)
"Inductive charging works for your electric toothbrush and your iPhone's external battery pack, so why not for an electric vehicle? HaloIPT, a New Zealand-based startup, sees inductive charging pads as a solution to the hassle of daily recharging of your EV or plug-in hybrid. Instead of remembering to plug in, a charging pad the size of a bath mat in the center of your garage floor would send electromagnetic waves to a converter in your car that does the recharging."  Read more…
(source: Extreme Tech)
The first iPod was introduced on October 23, 2001.  Read more…
(source: Tech Crunch)
"That phone you've been carrying around is about to become a relic. Its power-hogging display, rigid case, and miniscule memory capacity are as good as obsolete. While the pace of innovation makes it nearly impossible to predict exactly what our phones will look like two years hence, there are plenty of incredible new technologies on the horizon. What's clear is that our current phones will look quaint by 2014."  Read more…
(source: Maximum Tech)
"Google's fleet of robotic Toyota Priuses has now logged more than 190,000 miles (about 300,000 kilometers), driving in city traffic, busy highways, and mountainous roads with only occasional human intervention. The project is still far from becoming commercially viable, but Google has set up a demonstration system on its campus, using driverless golf carts, which points to how the technology could change transportation even in the near future."  Read more…
(source: IEEE Spectrum)
"Open up a cardboard tube, roll out a transparent film just millimeters thick, apply it on a flat object and *tada* you've got an interactive touch surface. Cambridge-based Visual Planet just launched its new massive-sized multitouch thin film drivers so you can create touchscreens from 30 to 167 inches in size!"  Read more…
(source: Singularity Hub, via Slashdot)
"Researchers at Intel debuted an experimental processor at the company's developer forum this week, which could lead to devices with significantly lower energy consumption. The chip — codenamed "Claremont" — is known as a near-threshold voltage processor, which allows transistors to operate at super-low, near "threshold" voltages to increase efficiency and decrease energy consumption."  Read more…
(source: Wired)
"[T]he solar power industry has been pushing out innovations right and left, some of which have the potential to make a serious (and positive) impact on our energy systems."
Thin film solar
Solar windows
Solar balloons
Hairy solar panels
Microinverters
Infrared spectrum solar panels
(source: Discovery)
"A virus has infiltrated American drones like the ones used to kill al Qaeda chief Anwar al-Awlaki and others, military officials said Friday. So far, none of the missions carried out by the unmanned attack crafts have been interfered with, but specialists fear that the virus is recording drone pilots' every move and are trying—so far unsuccessfully—to erase it."  Read more…
(source: The Daily Beast)
"A bunch of crazy, tea-drinking northern Brits have set a new land speed record for a gasification-powered vehicle, fueled only by coffee beans. The car, which you can see in the image above alongside its engineer Martin Bacon and with the most awesome license plate in the world, is called — you guessed it — The Coffee Car, and it was created by the Teesdale Conservation Volunteers of Durham, England."  Read more…
(source: ExtremeTech)